It's not a secret that translating for direct clients is more profitable than working with intermediaries like translation agencies.
For the last three years I gradually shifted from agencies to direct clients and today I'd like to share which client acquisition channels showed the best results in my freelance translation business during 2017 and which channels I'm planning to use in 2018.
I know that many freelancers struggle to establish direct communication with customers and prefer to stay under the wing of an agency. For some people, this option might be a way out to make both ends meet.
Nevertheless, according to my experience, finding a good-paying agency can be even harder than finding direct clients. That's why I decided to focus on direct clients only and, over the last six months, I did not accept a single order from an agency.
In fact, it took me about two years to form a stable inflow of orders from direct clients, but now I can say for sure — it is possible to build a successful freelance translation business and work with direct clients only.
So, here are the most efficient channels to get direct clients in 2018:
Personal Website
There are hundreds of thousands of people searching for your services on the web. And there is only one reason why they cannot find you — absence of online presence.
Your potential clients use different search phrases to find information on Google (and on other platforms too, see Social Networks section below).
Search phrases may be very simple and highly competitive like "Russian translation services" or more complex like "long-tail" search requests that are less competitive, e.g. "How much does a translation cost".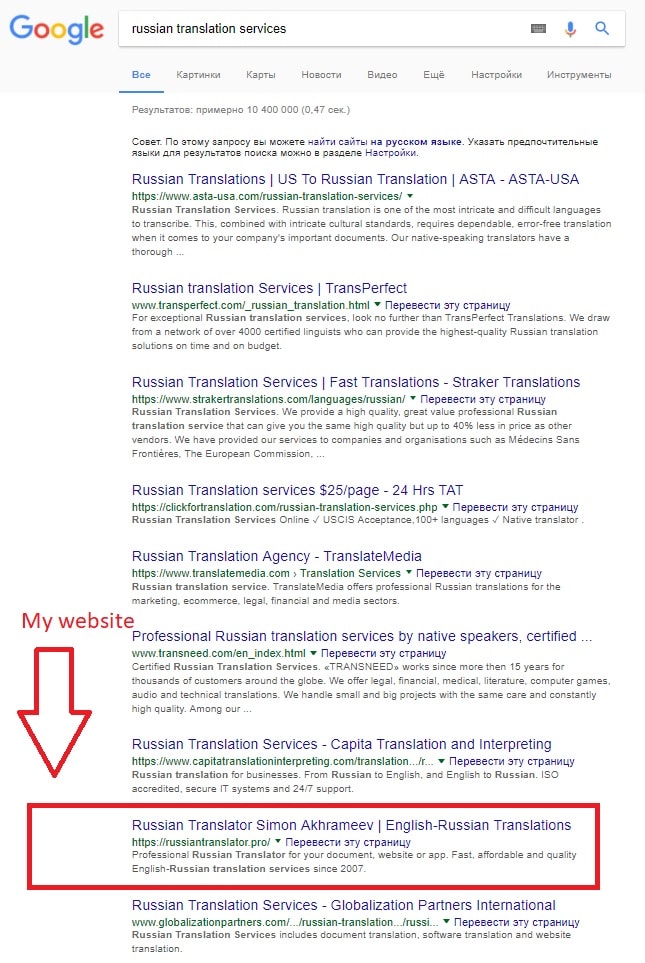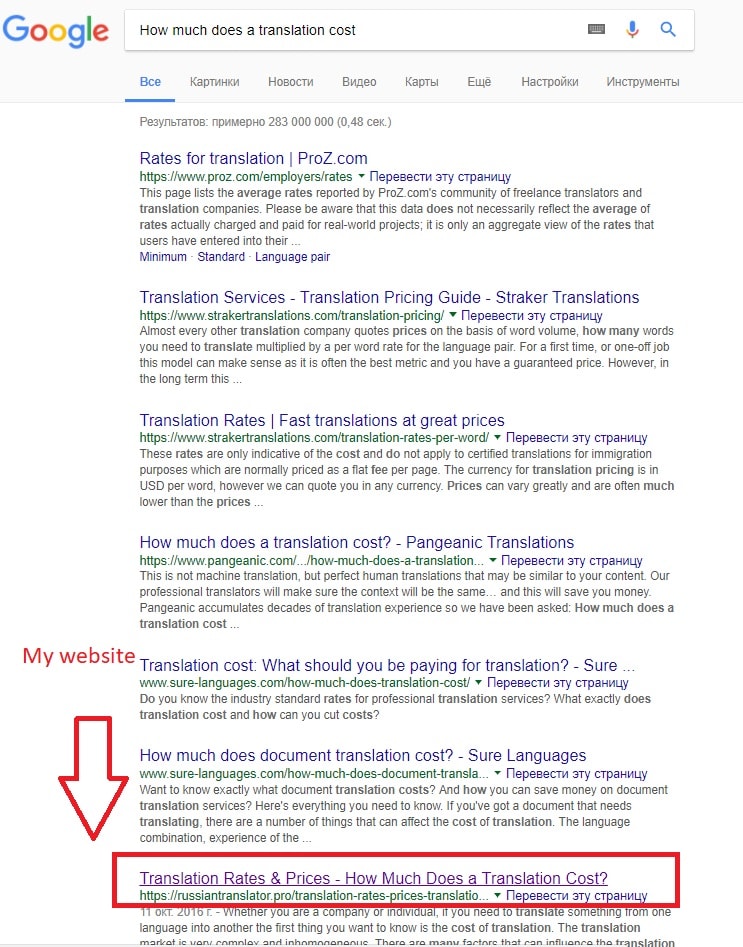 So, in order to show up on the first page of Google by certain keywords, you need to have relevant content on your website + constantly work to promote your content.
The idea behind a personal website is to provide clear and valuable answers to the questions of your clients.
This way you can help them find you on the web. This approach is called "Content Marketing".
I have prepared detailed instructions on how to apply Content Marketing for Freelance Translators in my free webinar (full text, video, and presentation included).
I apply this method to all of my websites and now this channel is the major source of orders from direct clients.
Now I have about two orders daily via my local website (Translator.KG boutique translation agency) and 2-4 orders per month from RussianTranslator.Pro.
It is hard to compete with global brands like Straker Translations or TransPerfect, but I've managed to reach the first page on Google search for several search phrases in several countries and I will continue working to promote my global website in 2018.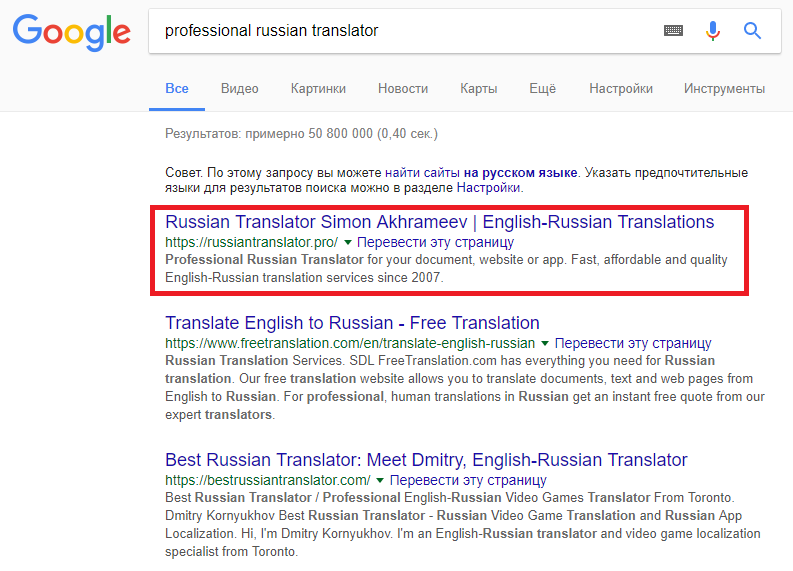 Also, last week I received the first order through the Russian version of my global website that I created about two months ago.
I was surprised to know that it was made by a client living in the Jewish Autonomous Region (Russian Far East).
Therefore, based on the results I achieved during 2017, two versions of my global website will be the priority development direction for 2018 — the English version for the US and EU markets, and the Russian version for the Russian Federation.
Social Networks
As I mentioned above, people search for information not only via search engines but via social networks as well.
In certain cases, social media channels can bring more qualified leads (potential clients that are ready to purchase your services) than search engines.
Facebook
Facebook provides amazing tools for entrepreneurs to promote goods and services to the right audience, analyze your business performance and attract new customers from certain areas.
However, a Facebook page may work for some domains and be completely useless for others. For instance, you can use FB page to offer translation services to travel and tourism companies that are very active on Facebook. However, it is the wrong place to connect with manufacturers of atomic absorption spectrophotometers.
The best way to find out if a Facebook page can work for your domain is to create one and start working on it. I have prepared a series of blog posts that will help you to set up, fine-tune and promote your Facebook page.
I've included further development of a local Facebook page in my promotion plan for 2018 (it is easier and cheaper to promote FB page in the local market rather than in the global).
Currently, I have almost 1700 followers and 1-2 orders weekly (with a mix of free SMM methods and paid ads).
LinkedIn
Another great source of new clients is LinkedIn. Famous online marketers line Darren Rowse and Neil Patel assure that LinkedIn is the best lead generation tool for a B2B market.
In the majority of cases, translation service providers like me and you offer services to other business, be it legal documents translation for international companies or website translation for a hotel.
Our potential customers actively use LinkedIn to find specialists. In other words, LinkedIn is the best platform to connect with potential customers if you decided to offer translation services to direct clients.
There are several things you should do to get found on LinkedIn:
Fill in all profile sections
Optimize job history items and description for certain keywords
Get endorsed for relevant skills
Receive recommendations from your clients
Regular post content related to your field of expertise
Take part in groups and discussions
To improve performance on LinkedIn you can also contact potential clients using InMail (paid feature) or connect with them via people in your network — LinkedIn suggests new connections based on your current network.
But before trying to reach out to your potential clients via social networks, you shall have a certain strategy and stick to it. I have described the entire process in my webinar: Social Media for Freelance Translators.
Over the last several months I was contacted by six companies via LinkedIn and received two relatively large translation projects related to blockchain and travel industries. I'm sure I will be able to get more leads if I focus on LinkedIn promotion in 2018.
I think that efficiency of this platform will grow year by year. So, if you want to succeed at Linkedin — start building your profile today.
Conclusion
Of course, there are many other methods and techniques that can be more useful in your particular niche to reach direct clients, e.g. the "foot in the door strategy" or pitching industry magazines to publish your articles, however, I found these two methods rather efficient.
In 2018, I will continue using SMM and Content Marketing for my translation business and I hope you will try these methods for your business as well. Despite the fact that they are time-consuming, in the long run, they will bring you more clients than you can handle.