Hey, guys! Many of us have personal websites (if no, check one of my posts to learn why you should) and you may wonder how to attract new visitors and convert them into clients. In this posts, I will show you how to use video to attract new clients to your website.
Content Marketing
In short, I use content marketing as one of the approaches for this purpose. Today a lot of people use search engines to learn about products or services before buying something. The approach is relatively simple: I select keywords (using Google AdWords Keyword Planner tool) that are used by potential clients who are searching for information about translation.
Then I select a keyword or a phrase and write an article around such word or phrase. Needless to say that this article should be informative and useful. Then I share it online using every possible resource (social media, communities, other platforms). Finally, clients will be able to find this information either on these resources or on a search page when this content is indexed by search engines.
Example
For instance, many clients who use translation service for the first time just don't know what they are paying for. They want to know how to calculate the cost of translation and how it is formed.
For this purpose, I have prepared a post about translation costs on my business website — russiantranslator.pro. As you know, I always try to diversify content on my blog and I already tried to convert my content into presentations (e.g. my presentation How to get more translation work in 2016), audio, and video formats. Several days ago I shared a link to screencasting service (Opencast) in SFT group. Today I recorded a video using this service and posted it in on YouTube.

How to use video to attract new clients
You know what is good about posting your videos on YouTube? You can get additional traffic to your business website! Millions of people use it every day to search for something they need. You should definitely try to use video to attract new clients since videos are a great interactive format to represent information that can give the answers to the questions of your clients.
Mover, many people prefer to watch videos instead of reading texts. If you don't have a YouTube channel, go and create one to link it to your website! And I will tell you more about YouTube as a tool for promotion in the next blog posts.
Let's get back to videos and how to attract clients using them. After you upload a video, you can put several keywords in a metadata section of the editor (for SEO purposes) and a link to your website with call-to-action in a video description section (for visitors) (e.g. "Order Translation Service from Russian Translator Pro").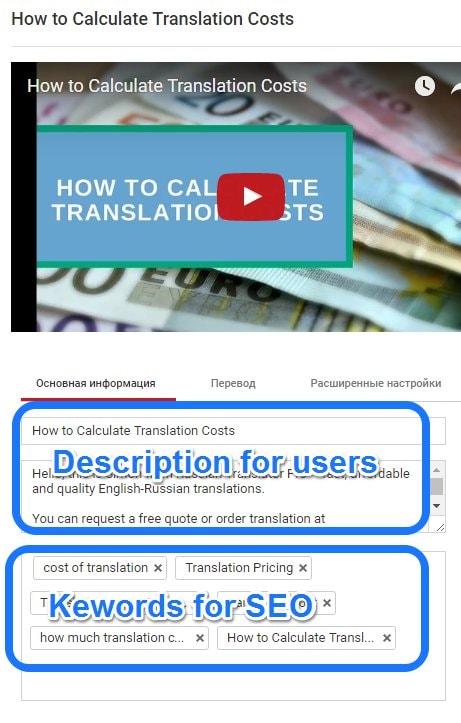 Then you can share video using the same channels mentioned above and gradually you will get new visitors (potential clients) on your website. That easy!
Conclusion
It took me about 30 minutes to repurpose a blog post into a video format, another 30 minutes to create a presentation in Google and about 1 hour to record a video with Opencast (I tried several times and finally I did that almost without mistakes). Nothing too complicated – everyone can do that.
Try this method for your website and tell us in comments how it works for you!
Do not forget to share this post with your friends and colleagues 🙂
Also, subscribe to SFT newsletter if you have not done this yet.