Needless to say that Facebook is one of the largest social networks on earth. It offers multiple communication opportunities both for personal needs and for businesses. If you're still not using a vast arsenal of Facebook features to boost your translation business – you are losing potential customers. You should definitely include Facebook promotion into your marketing plan and consistently follow it. In the today's post, I would like to show you how to use Facebook to boost your translation business.
I have two Facebook pages – TRANSLATOR.KG for local business and RUSSIAN TRANSLATOR.PRO for international promotion. I use both paid and free promotion methods for the first one and free promotion for the second. You may use both methods, but the promotion of local business page requires fewer efforts and less money to cover relevant audience.
There are some other ways to promote translation services and find new clients on Facebook; we will consider them below. Now let's get to Facebook pages.
Facebook Business Pages
1.7 billion people actively use Facebook daily to find relevant content, in particular, by subscribing to Facebook pages. Facebook page differs from your personal account and offers a set of functions to post content, promote and track your page performance. Facebook page has several sections and tabs so that you can represent your business to the target audience in a better way. In addition, you can set up sales directly from your Facebook business page with customizable call-to-action button. However, I strongly recommend applying complex approach and use Facebook page along with your personal website.
To create your first Facebook page, click triangle button in the upper left menu next to privacy settings button. You will see a drop-down list. Select Create Page option.

On the next page, you will be offered to select a page type. You may choose between several options each suitable for certain type of activity. I would recommend Local Business or Place for freelance translators. This option is quite good for local businesses – you will be listed on a search page when a person from your location is searching for translation services.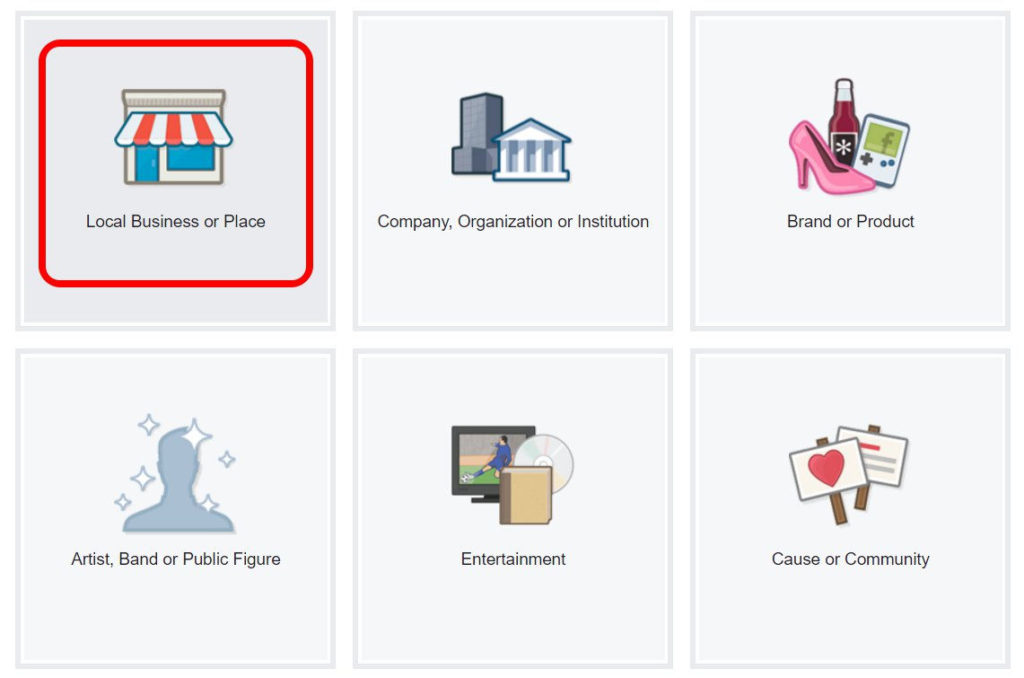 Select category and name for your page, indicate address and phone number.
Fill in all the fields in accordance with the instructions.
Add profile picture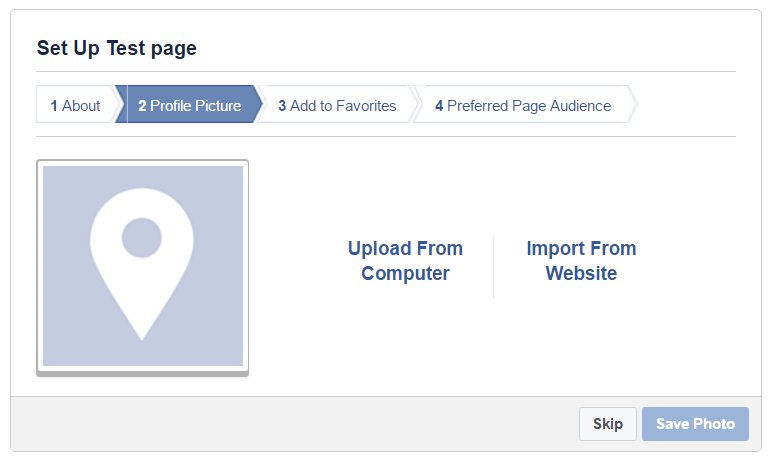 Add your Page to your favorites to easily access it anytime.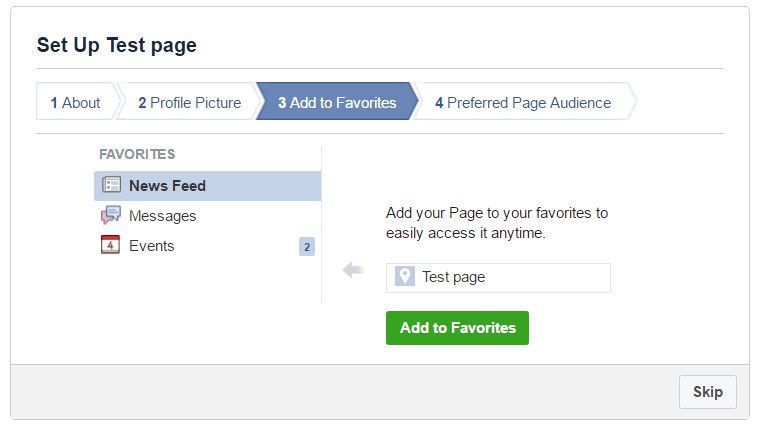 Select the preferred audience for better targeting. You should have a clear understanding of who your customers are. I mentioned it in my previous post about developing a business model for freelance translation business.
Click Save button. Now you have a Facebook page for business.
It's high time to fill it with details. Facebook page interface is not very complex, but you will divinely need some time to get used to it as it differs from the user's account interface.
Take your time to learn each section. Also, I'm planning to write a comprehensive guide about Facebook pages for translators so keep your eye on my blog updates.
Here are the main sections you'll see on your Facebook page: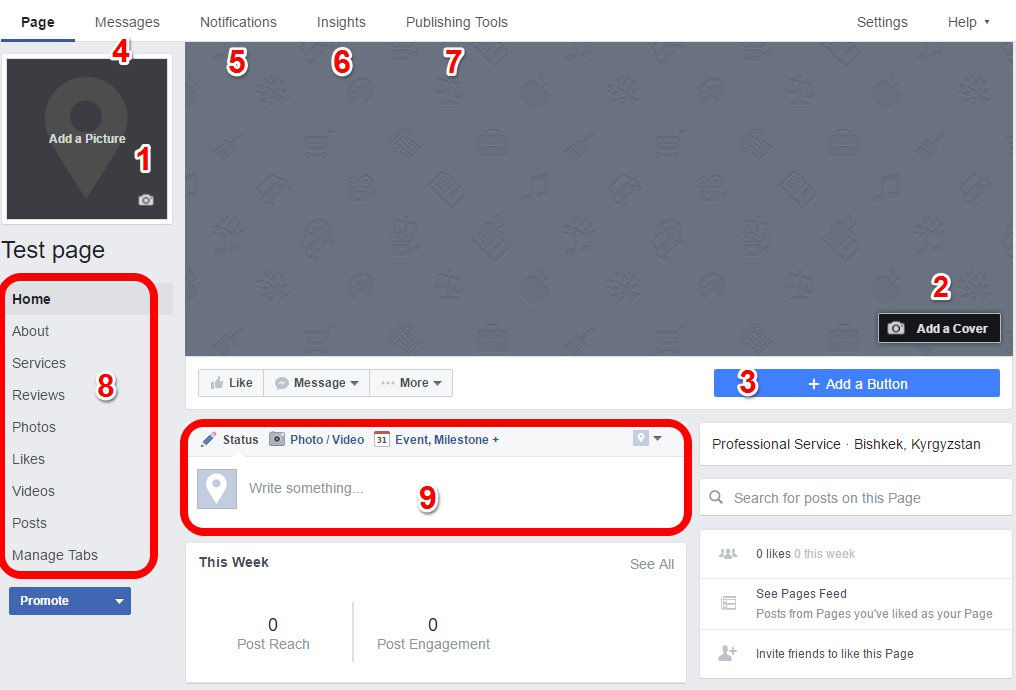 Profile picture. Keep it clear and informative – this can be your photo or a logo.
Cover photo.  Create a cover photo with an attractive slogan or a short sentence describing your services.
Add call-to-action button. Facebook offers several call-to-action options. Test what works better for you. In my case (for local business) it is call button with my phone number – 60% of visitors on my page use Facebook mobile app and they can call me directly from their smartphones.
Messages. Here you will see messages from your visitors.
Notifications. In this tab, you will find all notifications about actions on your page: new likes, shares, comments, etc.
Insights. Complex monitoring instruments to track your page performance.
Publishing tools. In this section, you can schedule your posts and create content sharing calendar based on your marketing plan.
Page tabs. Check each tab, fill in relevant details in every field – it is important for your page ranking and searchability. You may also add custom tabs and applications, e.g. email signup forms.
Publishing box. Here you can share updates for your page.
Facebook page is a powerful tool to boost your translation business. Keep it updated, post at least 3 times a week, run a short advertising campaign and see how it works. With consistent and regular promotion, you will soon get new clients coming from your Facebook page.
I would like to focus your attention on another useful feature – you can like and post comments on behalf of your Facebook page.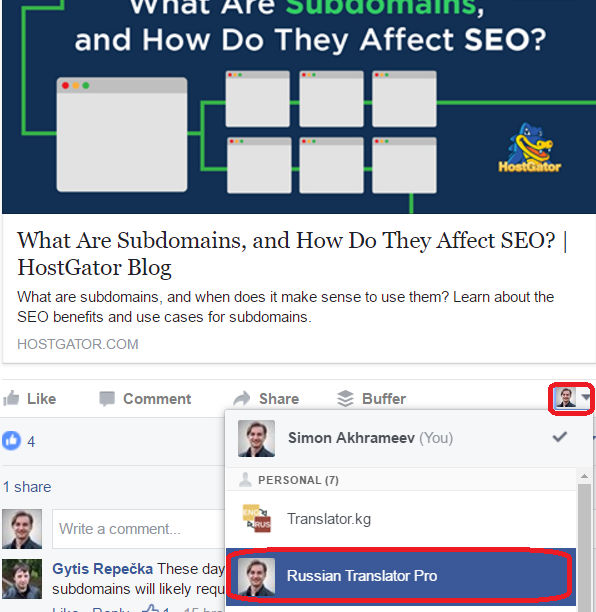 Find a business page of your potential client. Find relevant posts on the page and leave comments on behalf of your business page. You can do that by clicking your profile picture and selecting your page next to Share button below posts. This way you can attract prospect's attention to your business page. After several comments, you may contact the prospect via Facebook message to ask if they need help with translation.
Facebook Groups
Facebook groups is another good way to promote your business. You may join translation groups to discuss various translation-related topics, post updates from your business website and track job postings. Here are several translation groups you may join:
Another way is to join thematic groups, for instance, if you offer website localization services, find and join the relevant group, start discussions and post helpful comments. But before that, you should make sure that there are people who can potentially buy translation services. Monitor group activity to see if there are translation related requests or not. Post a question asking about the needs of group members, whether they need translation at all. Thematic groups will help to grow your client base only if you target the right audience and use wise approaches to potential customers without being too pushy or trying to sell anything. Be helpful instead.
Facebook Ads
For sure you can find new clients on Facebook using the above methods without spending a penny on advertising. However, if you're trying to reach new people in your local city, as I do with my boutique translation agency TRANSLATOR.KG , you should try Facebook ads to increase your reach.
There are several types of campaigns you can create with ads manager. I will prepare a complete guide on Facebook advertising for translators later as this topic covers many things. However, you should not be afraid of trying it on your own. I used two campaigns – one for general adverting to gain new followers (likes for pages) and one targeted campaign to get clicks on my website.
First is quite good to increase the number of followers interested in your content who will further spread your content on Facebook with their friends and colleagues – thus you will reach new people who can potentially become your customers. The second is good to redirect Facebook users to your website where they can order your services.
Now I should note that Facebook ads work differently than Google ads. Facebook uses interests while Google uses context. Therefore, setting up Facebook ads campaign you should target people by their interests and gain followers who are interested in certain things.
I'm targeting 28-45 years old people living in Bishkek who have stated business, construction, engineering, marketing, legal and some other interests in their profiles. There are many other criteria you can use to find very specific audience. Therefore, you should carefully set up targeting in your ads campaign to reach the required customer segments identified in your freelance translation business model.
Now you know three effective ways to use Facebook to boost your translation business. Of course, you may hire SMM specialist to manage your Facebook promotion if you have enough budget, however, services of really good SMM managers may cost much. Actually, if you have limited budgets, you can handle all this on your own spending about 30-40 minutes daily for marketing your services on Facebook.
If you have any questions about Facebook pages, groups of advertising, feel free to ask them in a personal message on Facebook , Twitter or in a comments section below. Also, you are welcome to join Successful Freelance Translators group where we share useful articles, insights, and ideas about translation business.