In the previous post, you learned how to customize general settings of your Facebook Page for business. This post will be the last one in the series about page settings and then we will proceed to page promotion.
First, go to your business page and choose Settings menu item in the upper right corner.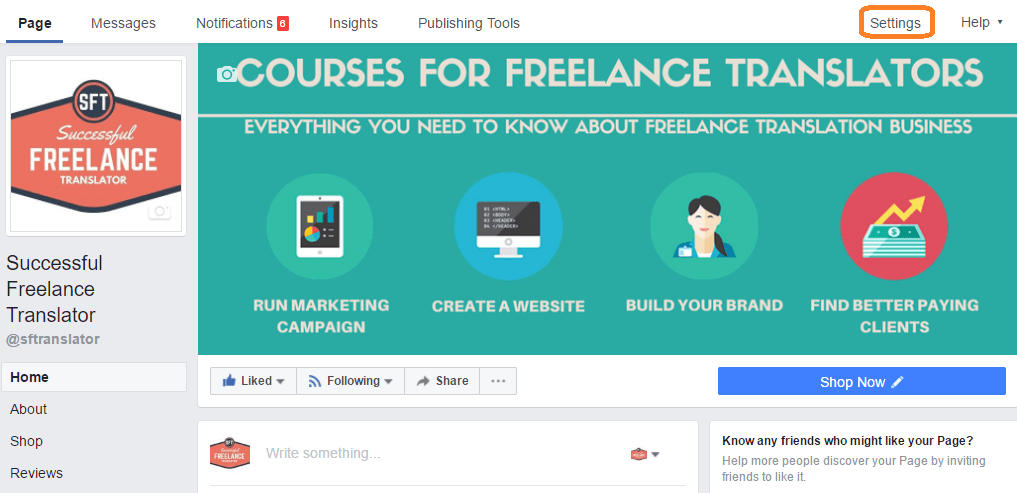 In this post we will go through some of the remaining sections:
Messaging
One of the reasons why you created a Facebook Page for business is to communicate with your prospects, answer questions and even receive new orders through your page.
In this section, you can set up messaging options and type in automatic replies for the Response Assistant.
This feature is very useful since it is impossible to be online 24/7 and answer all requests received out of normal office hours.
Here you can add three types of automatic messages: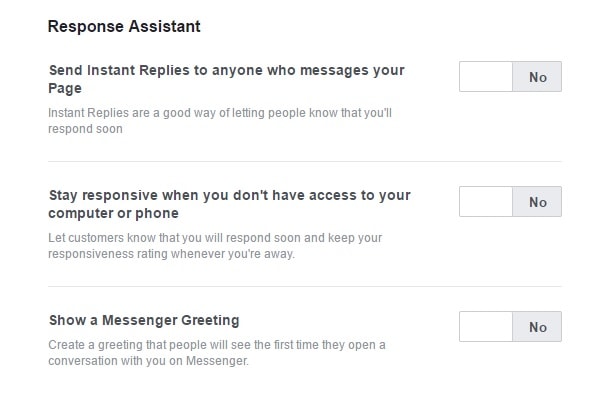 Send Instant Replies to anyone who messages your Page
Write a short message to let people know that you will get in touch with them soon.
Stay responsive when you don't have access to your computer or phone
In addition to the above, this option will let you keep your response rating at a high level. This rating is shown in the right sidebar for visitors keeping them informed about your rate of response.
For instance, if you respond within a day, Facebook will tell your prospects that they can expect a message from you within 24 hours.
If you send messages within several minutes, you will get a green badge saying that you are Very Responsive that can be a good metrics to attract new prospects and close new deals via Facebook.
Show a Messenger Greeting
Here you can create a short greeting for your visitors when they start the first conversation via Messager from your page.
Edit Page
Facebook offers several page templates designed specifically for certain types of activities. Such templates include button and tabs design. In our case, it is better to choose Business of Service layouts.
You can preview the content of each template before applying it. After that, you can also change the order of tabs appearing on your page.
For example, when you sell services, it would be wise to choose About tab first in the list so that new visitors will see this information about your business in the first instance and then choose services and reviews to show what you offer and what clients say about your services.
Post Attribution
This section is very simple. By default, when you publish content on your page, posts will be attributed to you Page name.
However, if you are using your name to market services, you can publish posts on the page on behalf of your main Facebook profile.
If you invented a brand name for your freelance business, keep the default settings here.
Notifications
Here you can set up notifications about different events that take place on and with your page.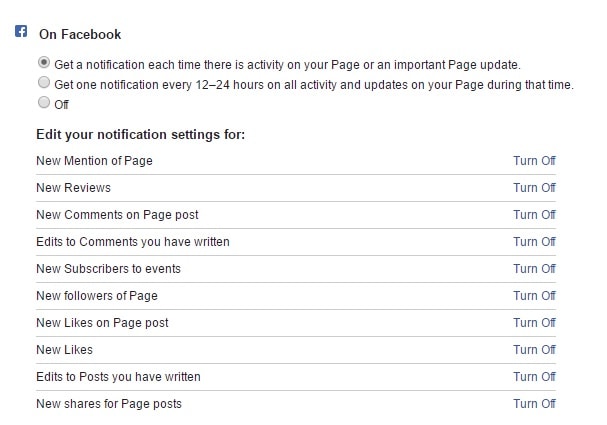 Messenger platform
Facebook frequently roll out new features. Discover is one of them. This feature is located in a Messenger platform menu item and is designed to help users find your business right in Facebook Messenger. This feature is switched on by default. So don't change anything here.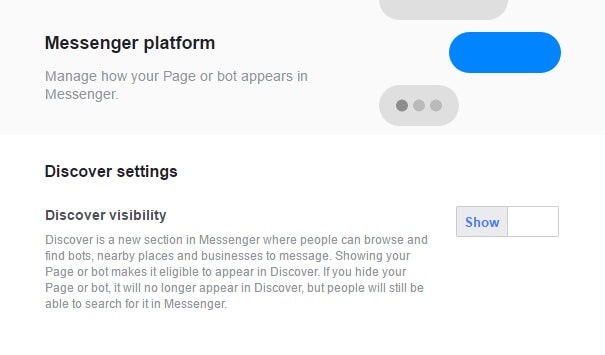 Page Roles
If you manage your Facebook page all alone, you don't need to change anything here. However, with the development of your business, you may want to outsource different SMM functions. Here you can add different user roles to your page with certain access rights for each of them. Currently, there are several roles available (limitations are getting more strict from top to bottom):
Admin (you)

Editor

Moderator

Advertiser

Analyst

Live contributor
People and Other Pages
Sometimes fake users or spammers may like your page. Here you can remove and/or ban them.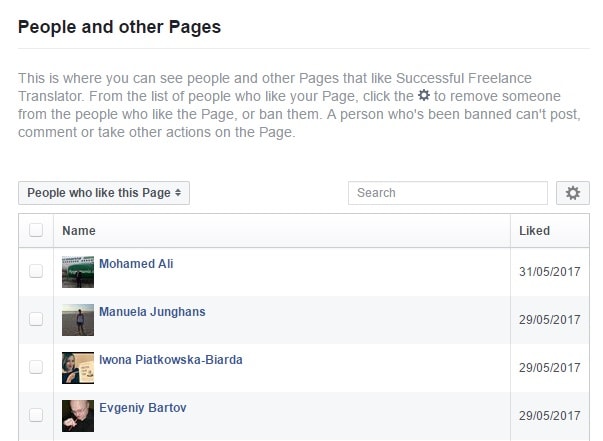 Preferred Page Audience
This is one of the most important settings. From this tab, you can select the preferred audience of your Page to improve targeting.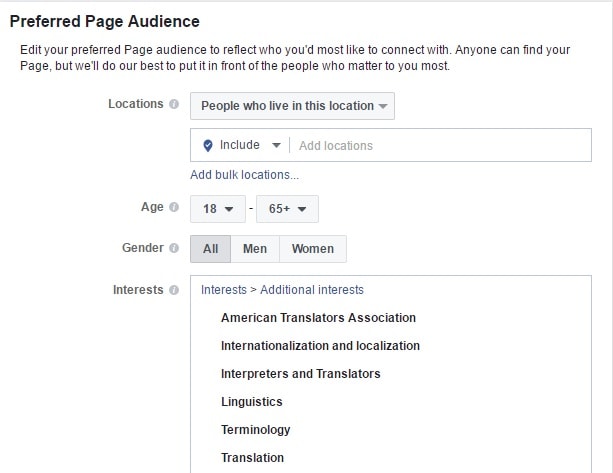 Though Facebook pushes users to spend money on Page advertising, people can still find your page through organic search. These settings will help the right people find your page among hundreds of similar pages depending on location, age, gender, interests, and languages.
Partner apps and services
Several proven third-party developers offer different automation solutions for your Page, e.g. quoting, booking and more. I have not tested any of them so I cannot give any recommendations.
Instagram Adverts
Here you can connect your Instagram account to your Facebook business page to promote it on Instagram.
Featured
Before using this section you need to like other business pages on behalf of your page (go to a page you want to like and click the button on the right from Share button. Choose Like as your Page item):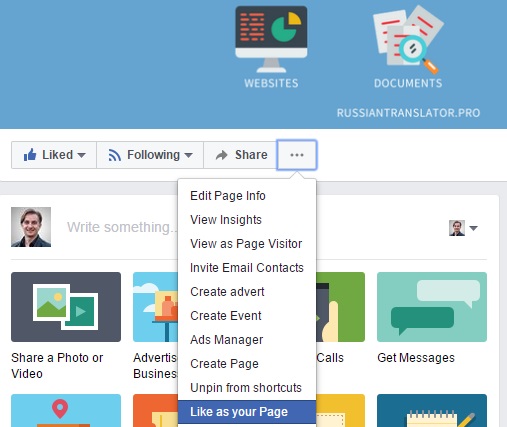 Then you will be able to add them to featured pages to promote them in a certain part of your page. This is useful for promotion of your side projects or partners.
Crossposting
If you use videos for marketing purposes, you can connect with other page owners (your partners or colleagues) and crosspost videos on several pages at once.

Now your page is ready for the further promotion! Heaving applied all settings described in the previous posts, you will get better results than without such fine-tuning.
If you have any questions about the above settings, ask them in a comments section below and I will try to help you 😉