For many people Twitter became a daily routine – they wake up in the morning and check Twitter before (or while) having their coffee. Twitter is among top 10 social networks with over 310 million monthly active users. You have 140 character per tweet and due to this limit, Twitter messages are kept compact and informative. If you never used Twitter before, you should definitely register an account for your translation business. Let me explain why you need a twitter account.
[Tweet "Learn how to use #Twitter for your #freelance #translation #business"]
You can make use of it and help your potential customers to resolve their problems via Twitter. However, this is not the only way you can use Twitter for your translation business. You may connect with your customers, answer their questions, use Twitter for personal branding, receive feedback from clients, use twitter for marketing purposes, find new prospects or even track down the activities of your competitors.
Below the post you can download a "Twitter for Freelance Translators" checklist to get a quick access to this information.
Twitter Account
After you register on Twitter you will have to fill in all necessary sections of your account. You may change account settings based on your preferences, set up email notifications and fill in your personal data. However, for the business purposes we need to focus on the following sections: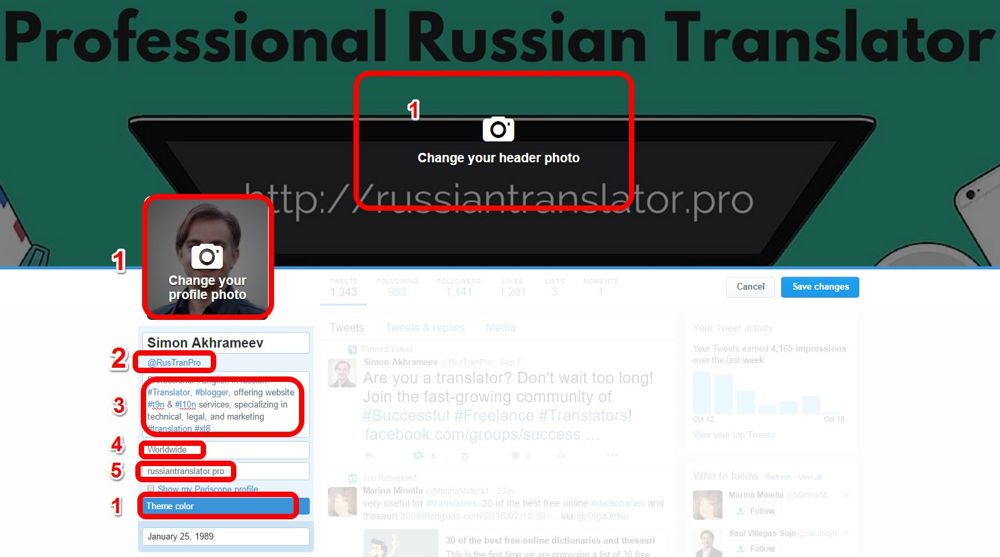 Profile picture, header image and colors
Twitter handle (your username that starts with @)
Your bio
Your location
Link to your website.
Profile picture and background image
As you remember from my post about personal branding, the visual style is a crucial part of your personal brand, therefore I use one and the same profile photo for my social profiles. This way people will be able to recognize me on various websites. You can also add a header image with a short text describing your business. I recommend Canva's pre-designed templates, alternatively, you can create your own header image. If you already have a website for your translation business, you can apply your branded colors to a Twitter account.
Twitter handle
Twitter handle is a username with the @ sign that can be used to find people on Twitter, mention them in your tweets or send personal tweets. This handle (without @) is also used as your profile URL. Therefore, you should create an informative and easy-to-remember Twitter name for your business account. There are certain limits for Twitter names, so keep it short. For instance, you may follow me via this handle: @RusTranPro or via the link: https://twitter.com/RusTranPro.
You can also add you name in a relevant field between Profile image and Twitter handle.
Bio
Profiles description or bio includes 4-5 lines of text that appear below the Twitter handle. Here you can include some more details about your services, provide a short link to your website (in addition to the link in a special field) and add #hashtags to help your potential customers find you on twitter.
Your location
If you want to be found by local people and receive local Trends in the left sidebar on the main page, you may include your current location in the next field under bio. I indicated "Worldwide" in this filed as I'm targeting at the global audience and set the USA as a place to follow the trends.
Link to your website
Here you can add a link to your website to attract new visitors. You don't need to include http:// before your site link.
Do not forget to download a "Twitter for Freelance Translators" checklist below the post.
How to get followers
Basically, you can gain your first followers by following other people on Twitter. I regularly search for new interesting profiles on Twitter and follow them. Then people follow me back. You can also include a link to your Twitter profile into your email signature, or ask your friends and colleagues to follow you, invite your existing followers from Facebook page for business or join a free Twitter promotion project for translators (described below).
[Tweet "Learn how to get started with Twitter for #freelance #translators and get new #followers"]
Who to follow
Fellow translators
First I would suggest following other translators. Networking with translators is very important as you can find new friends and business connections. For instance, sometimes we can receive translation requests from clients in a language pair that we do not work in. In this case, if you have a large network of fellow translators, you can recommend relevant translator or expect to be recommended to clients.
Here is the list of top twitter account of translators I follow. They share awesome posts about translation, professional development, and other related topics.
Translation companies (if you target agencies)
If you want to work with translation agencies, you may follow them on twitter to be informed about their activities. Translation agencies often post Tweets about available projects in certain language pairs or share information about current vacancies. Also, you can find new agencies specializing in your language pair and try to contact them via direct message. But you should not be too pushy! Learn more about the agency before contacting it and find out if they need translators in your language pair.
Potential direct clients (if you target direct clients)
If you already determined your ideal client (or buying persona) you can try to approach your potential customers on Twitter as well. Start with following them, retweet relevant content published by your prospects, take part in Twitter chats, etc. The idea is to make them notice you. Further on, after thorough investigation of the company, you can establish a contact with them though indirect message or by mentioning them in your Tweet.
Who not to follow
I've registered a Twitter account one year ago and I understood that there are three types of profiles you should not follow:
Accounts w/o profile picture and description
Account with high following ratio (following significantly more than followers)
Accounts with low tweeting rate.
Organizing followers
If you want to organize your followers, you can use "Lists" feature. For instance, you may want to track tweets published by a group of translation agencies. You can add them to a special list (either public or private). To do that you need to visit the required profile, click Settings icon left from the Follow button and select Add or remove from lists option.
What to tweet about
There are many formulas of content publishing on social networks. In my opinion, you can use the following: 60% of curated content, 20% retweets, 20% original content.
Curated content
Find relevant content that can be interesting for your target audience and post it regularly on Twitter. Further based on Tweeter analytics you can find out what curated content was the most popular and plan your further content strategy respectively.
Retweets
You can't get the most out of social media without engagement. Retweeting the content of your followers means that you care about what they publish on Twitter. Do not retweet everything, share only those posts that can be useful for your audience.
Original content
Finally, you should definitely make use of Twitter to spread your own original content from your blog. I share content from my two blogs regularly, at least 4-5 tweets per week.
How often to Tweet
I have analyzed the activity of my top followers and it turned out that they post 11 tweets per day on the average. I rarely reach this number, but I'm trying to post at least two tweets daily.
Twitter promotion
In March 2016 Erik Hansson, founder of a popular Facebook groups for translators – Things Translators Never Say, launched a special project to promote translators on Twitter. You can learn more about this project from my blog post. The idea is simple — translators promote their colleagues on twitter using special hashtag #xl8promote in a tweet with the following content:
#xl8promote In my network @TwitterName translator Source Language > Target Language, #specialization RT welcome.
If you have just registered your business profile on Twitter and want to get more followers, follow me here and send a direct message with your language combination and specialization. I will gladly help you to gain momentum and find your first followers. You can also follow Erik_Hansson and ask him to promote you. This is absolutely free, so don't wait too long!
Twitter analytics
It is impossible to measure your progress without analytics. Twitter offers a special tool to analyze your activities on Twitter, find out the most popular tweets, see how many tweets you published over the month, how many new followers your gains, etc. This data will help you to get a better view of your efforts on Twitter.
Hashtags for Translators
A hashtag is a type of label or metadata tag used on social network and microblogging services which makes it easier for users to find messages with a specific theme or content.

Wikipedia
Adding certain hashtags to your tweets will help your followers and other Twitter users find your content. There are several popular hashtags related to the translation industry. You can also find the list of top translation and localization hashtags in the article published on TheOpenMic.
Here are some of them: #translation, #xl8, #t9n, #l10n, #linguistics, #translators, #t9njobs
Thanks for reading this long post. I'm sure this information is sufficient enough to start with Twitter and get your first followers. Twitter is a powerful tool for online marketing; therefore, you should not avoid it in your efforts to promote your translation services on the web.
Do not forget you grab your free checklist!
Also, I will appreciate it if you share this post with your colleagues and fellow translators.